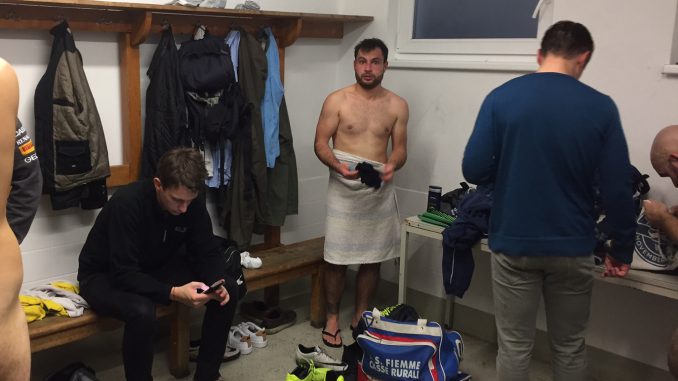 Nach einem fulminanten Sieg gegen SUSA am letzten Spieltag ist die Endstation am Samstag zu Gast bei Eventus Wien. Ziel: Das Momentum der letzten Woche mitnehmen und die nächsten 3 Punkte einzubringen!
Zur Startaufstellung:
Tor Paludo, in der Verteidigung (C) Gold, Schramm F. und Sladky, die Flügel wurden von Schmidl und Breit bespielt, im zentralen Mittelfeld wüten Perzl und Dosek, im Sturm Havlik, Zenuni und Schramm M.
Das Spiel begann dort wo man letzte Woche aufgehört hatte, kontrolliert, geordnet und direkt! So kam die Endstation nach nur wenigen Minuten zu Torchancen. In der 12. Minute spielten Havlik und Breit an der rechten Seite die Verteidigung des Gegners gekonnt aus und brachten den Ball gefährlich in den Strafraum, der von Zenuni verwertet wurde, 1- 0 Endstation.
Der Hernalser – Zug rollte weiter und die Endstation machte dauerhaften Druck, worauf die Gegner kaum mithalten konnten und die Lokomotive per Foul zu stoppen versuchte (21. Minute erste gelbe Karte – Foul an den heute sehr starken Dosek).
In der 30. Minute kam es zur nächsten spielerischen Glanzleistung: Havlik wurde aus 30 Metern in den Lauf geschickt, dieser positionierte sich mit Geduld in die richtige Schussstellung und schloss mit einem Volley ala Ronaldo ins kurze Eck, 2-0 Endstation.
Eine Minute später nutzte die Endstation das kurzzeitige Black-OUT des Gegners und Dosek verwandelte aus 23 Metern, 3-0 Endstation.
Eventus Wien versuchte sich zu finden und es gelang ihnen in der 34. Minute einen Treffer zu erzielen, 3-1. Halbzeitstand 3-1.
In der zweiten Halbzeit kam Weese für Havlik und Hanspeter für Perzl. Die Gegner kamen sehr motiviert aus der Kabine und machten die ersten Minuten der zweiten Halbzeit Druck auf das Tor von Paludo. Dann jedoch die vorzeitige Erlösung: In der 53. Minute setzt sich Schramm M. durch und konnte nur mehr durch ein Foul gestoppt werden –> Elfmeter Dosek –> 4 – 1 Endstation.
Danach war das Tempo aus dem Spiels heraussen und es entwickelten sich kaum Chancen auf beide Seiten. 79. Minute Stadler für Zenuni.
In der 81. Minuten dann das Tor des Tages: Schramm M. wird am 16.er hoch angespielt, der problemlos mit einem feinfühligen Touch in den Lauf von Dosek auflegt und dieser EISKALT ins Eck verwertet, 5-1 Dreierpack Dosek, Man of the Match!
Starke Leistung der Hernalser Truppe und durch die erneute Niederlage von SUSA liegt man nun auf Platz 1 – pinktegleich mit Vienna Vibes! Nun heißt es weiterhin konzentriert zu bleiben und keine Punkte liegen zu lassen!
Die Formkurve zeigt deutlich nach oben und am Freitag wartet bereits der nächste Gegner, den es zu schlagen gilt!
Trainer Püsche kann bis dato mit der Leistung seiner Truppe zufrieden sein!